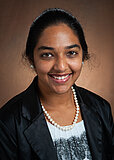 Dr. Beena Ajmera, PE
Assistant Professor
Department of Civil and Environmental Engineering
Office: CIE 201Q
Telephone: (701) 231-5619
Email: beena.ajmera@ndsu.edu
Personal Webpage: https://www.ndsu.edu/faculty/ajmera/
Education
Ph.D. in Civil Engineering with focus in Geotechnical Engineering, Virginia Polytechnic Institute and State University, Blacksburg, VA
M.S. in Civil Engineering with emphasis in Geotechnical Engineering, California State University, Fullerton, Fullerton, CA
B.S. in Civil Engineering with Honors, California State University, Fullerton, Fullerton, CA
B.A. in Applied Mathematics with Honors, California State University, Fullerton, Fullerton, CA
Interests Areas
Geotechnical earthquake engineering
Static and dynamic behavior of soils and rocks
Static and dynamic laboratory soil testing
Fundamental behavior of geomaterials from mineralogical and chemical analyses
Use of recycled materials in soil modification
Ground improvement techniques
Soil and rock slope stability
Professional Experience
Prior to joining North Dakota State University (NDSU) in August 2018, Dr. Beena Ajmera was an Assistant Professor in the Department of Civil and Environmental Engineering at California State University, Fullerton (CSUF) where she started upon the completion of her Ph.D. in August 2015. She has conducted research related to several different areas of geotechnical engineering and taught soil mechanics, surveying, engineering mathematics, geotechnical earthquake engineering, soil and site improvement, slope stability and retaining walls, and advanced soil testing courses. Dr. Ajmera was also a Lecturer (2015-2018) and Teaching Fellow (2014) for the Engineering Innovations summer program for high school students for Whiting School of Engineering at Johns Hopkins University. Locally, Dr. Ajmera is the Vice President of the North Dakota Section of the American Society of Civil Engineers (ASCE). She is also member of the Earthquake Engineering and Soil Dynamics (EESD) Technical Committee, the Embankments, Dams and Slopes (EDS) Technical Committee and the Student Participation Committee (SPC) of the ASCE Geo-Institute, where she serves as Chair of the EDS Student Involvement Initiative and Assistant Director of the National GeoWall Competition. Dr. Ajmera is a Councilor in the Engineering Division of the Council on Undergraduate Research and serves as their representative for the National Conferences on Undergraduate Research (NCUR) Oversight Committee. As the Liaison from the United States representing the Geo-Institute, Dr. Ajmera is a member of the Younger Member Presidential Group of the International Society of Soil Mechanics and Geotechnical Engineering. She also serves as an editor of the journal Landslides and NDSU's representative on the International Consortium on Landslides. She is registered as a Professional Engineer (license no. C90144) in the State of California.
Research
Dr. Ajmera's primary research interests lie in geotechnical earthquake engineering/soil dynamics, static and dynamic behavior of soils and rocks, static and dynamic laboratory soil testing, fundamental behavior of geomaterials from mineralogical and chemical analyses, use of recycled materials in soil modification, ground improvement techniques, and soil and rock slope stability.
Academic Highlights
Dr. Ajmera has co-authored 5 invited book chapters, 17 published or under review journal articles, 24 geotechnical special publications, and 78 peer-reviewed conference proceedings at regional, national and international conferences. She has also received several national and international awards for her research including, among others, the inaugural Oldrich Hungr Award from the International Consortium on Landslides, Thomas A. Middlebrooks Award from the Geo-Institute, Collingwood Prize from ASCE, National Science Foundation Graduate Research Fellowship, U.S. Society of Dams Scholarship, and Dwight D. Eisenhower Transportation Fellowship twice. Dr. Ajmera has delivered over 20 invited presentations at several events including Oldrich Hungr Plenary Lecture at the 5th World Landslide Forum in 2021, the 2015 Annual Meeting of the United States Society of Dams and the January 2018 Dinner Meeting of the Los Angeles Chapter of the American Society of Civil Engineers' Geo-Institute. As an Assistant Professor, she has supervised over 46 undergraduate and graduate students on various research projects and provided research experiences to over 50 community college, high school and visiting international undergraduate students.