West Dining Center
Fully renovated in 2019, the West Dining Center (also known as West or the WDC) is a full-service, state-of-the art dining center.
Hours of Operation:
Academic Year Hours:
Monday-Thursday: 8am-11pm
Friday-Saturday: 8am-9pm
Sunday: 8am-9pm
Please download the NDSU Dining App for most up-to-date dining center and station hours.
Food Stations:
Global: Serving a variety of meals from around the world
The Bakery: Fresh baked goodies, straight from the oven
Clean Eats: Clean eating, free of the top 8 allergens
Pizza: More variety, plus new flatbreads
Smoothies: Fresh fruit, real ingredients, for a superfood smoothie experience (breakfast only)
Homestyle: All your favorite comfort foods in one place
Salad/Panini/Deli: Amazing new selection, plus ready-to-eat items
The Grill: Burgers, brats and more
Allergen Friendly
The West Dining Center is NDSU's allergen-friendly dining center. All items served within the WDC are made without peanut or tree nut ingredients.

Clean Eats is a food station located within the WDC that provides entrees, side items and desserts that are free from the top eight allergens (milk, egg, soy, gluten, fish, shellfish, peanuts, tree nuts) and gluten.

Learn more about NDSU Dining's commitment to our students with allergies or dietary sensitivities.
NDSU Dietary Services

*Please note, NDSU's centralized production bakery is located in the lower level of the West Dining Center. It uses tree nut and peanut ingredients, but every effort is made to avoid cross contact with the upper-level dining center.
Location:
West is located between the high-rise residence halls of Seim, Thompson, Sevrinson, Pavek, and Cater. All of these halls also have direct tunnel access to the WDC so residents do not have to brave the cold or change out of their slippers to grab a bite to eat. Physical location is 1500 15th Ave. N., Fargo, ND.
Awards: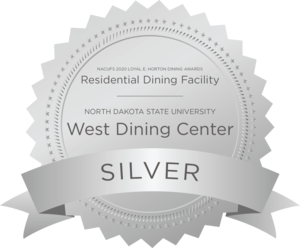 Silver, Residential Dining Facility - NACUFS 2020 Loyal E. Horton Dining AwardsThe National Association of College and University Food Service (NACUFS) awarded NDSU a silver in the category of Residential Dining Facility for large institutions in the NACUFS 2020 Loyal E. Horton Dining Awards. The dining awards celebrate exemplary menus, presentations, special event planning, and new dining concepts, and provide an avenue for sharing ideas and creative presentations in campus dining services. All winners are listed here: https://www.nacufs.org/Awards/LoyalEHortonDiningAwards